VR
Overview
Go deeper than a flat photograph! We make interactive experiences that allow people to look around and explore locations for themselves.
With state-of-the-art equipment, complete knowledge of post-processing, and many years' experience in web design and online marketing, we offer you more than just a photographic service. We can take your product to the next level in Internet publishing.

Efficient service
Understanding of your needs
Web integration and design
Post-processing to suit the demands of your business

What is
VR?
VR or Virtual Reality is rapidly growing in popularity among the biggest brands in the world and with it grows the demand for VR content. We offer end-to-end production for your next VR project whether it will be used as a presentation tool at your next tradeshow or as the highlight of your next marketing campaign. Case studies show that having a VR experience for your brand will significantly increase your presence at any event and will continue to do so even after the experience is over. 360Folio creates the story behind the experience, produces it, and provides necessary gear to experience virtual reality.
Why
VR?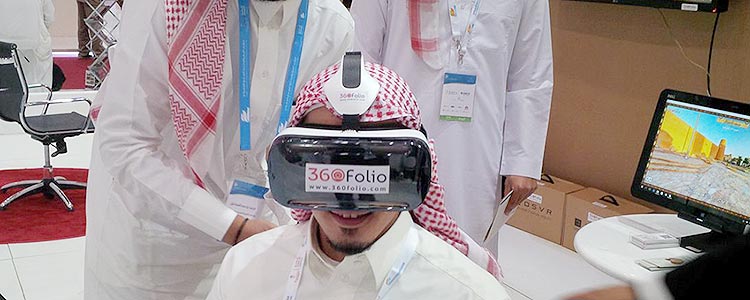 As soon as the technology to play back a 360 degree video was coupled with interactive devices that could accept input from the viewer, and give them control, people started realizing the possibilities. Early attempts, however, tended to fall short. Even the best productions, until the recent boom in Virtual Reality display technology (like the Oculus Rift, Samsung Gear VR, HTC Vive, Razer OSVR and other cardboard head mounted displays) came along, it was very difficult to achieve a feeling of immersion in your 360° video production.
Why
360Folio?
While our 360° production quality is among the best available, we believe that they really shine when used with purpose-built VR Headsets. Our team understands how to create a "presence" in the viewing experience, which is one of the biggest challenges in the creation of virtual reality content. We do it by creating content that is comfortable for the user, is mindful of the project's goals, and is 100% dedicated to the creation of a quality end user experience.
360Folio's considerable experience in project management for 360° content makes us a natural choice when it comes to live action VR production. We know how to scout and secure locations, and we have an intimate understanding of the technical subtleties of frame rate, camera positioning, and camera movement. We produce beautiful content that is also eminently watchable. The end product is comfortable for a person to watch for an extended period of time.
360° content is new enough to provide an element of "wow" to your exhibit anywhere experiential marketing takes place – at a convention, trade show, or other event where you need your message to cut through the noise. 360° content are an excellent way to showcase businesses that focus on entertainment and events, tourism, training, and education.